1729 Act for the More Quiet Settling the Bounds of the Meherrin Indian Lands.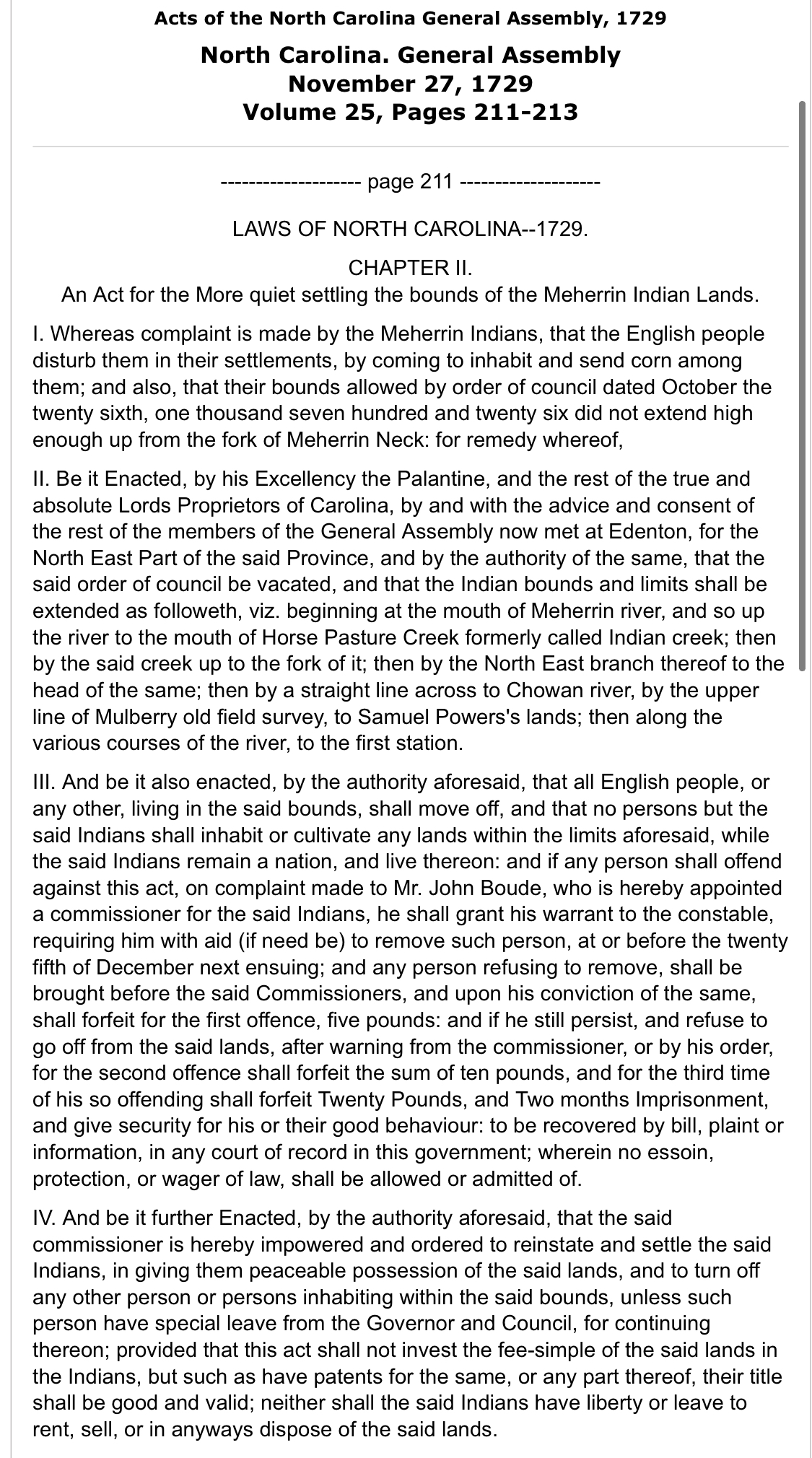 An Act for the More quiet settling of the bounds of the Meherrin Indian Lands.
I. Whereas complaint is made by the Meherrin Indians, that the English people disturb them in their settlements, by coming to inhabit and send com among them; and also, that their bounds allowed by order of council dated October the twenty sixth, one thousand seven hundred and twenty six did not extend high enough up from the fork of Meherrin Neck: for remedy whereof.
II. Be it Enacted, by his Excellency the Palantine, and the rest of the true and absolute Lords Proprietors of Carolina, by and with the advice and consent of the rest of the members of the General Assembly now met at Edenton, for the North East Part of the said Province, and by the authority of the same, that the said order of council be vacated, and that the Indian bounds and limits shall be extended as followeth, viz. beginning at the mouth of Meherrin river, and
so up the river to the mouth of Horse Pasture Creek formerly called Indian creek; then by the said creek up to the fork of it; then by the North East branch thereof to the head of the same; then by a straight line across to Chowan river, by the upper line of Mulberry old field survey, to Samuel Power's lands; then along the various courses of the river, to the first station.
III . And be it also enacted, by the authority aforesaid, that all English people, or any other, living in the said bounds, shall move off, and that no persons but the said Indians shall inhabit or cultivate any lands within the limits aforesaid, while the said Indians remain a nation, and live thereon: and if any person shall offend against this act, on complaint made to Mr. John Boude, who is hereby appointed a commissioner for the said Indians, he shall grant his warrant to the constable, requiring him with aid (if need be) to remove such person, at or before the twenty fifth of December next ensuing; and any person refusing to remove, shall be brought before the said Commissioners, and upon his conviction of the same, shall forfeit for the first offence, five pounds: and if he still persist, and refuse to go off from the said lands, after warning from the commissioner, or by his order, for the second offence shall forfeit the sum of ten pounds, and for the third time of his so offending shall forfeit Twenty Pounds, and Two months Imprisonment, and give security for his or their good behaviour to be recovered by bill, plaint, or information, in any court of record in this government; wherein no essoin, protection, or wager of law, shall be allowed or admitted of.
IV. And be it further Enacted, by the authority aforesaid, that the said commissioner is hereby impowered and ordered to reinstate and settle the said Indians, in giving them peaceable possession of the said lands, and to turn off any other person or persons inhabiting within the said bounds, unless such person have special leave from the Governor and Council, for continuing thereon; provided that this act shall not invest the fee-simple or the said lands in the Indians, but such as have patents for the same, or any part thereof, their title shall be good and valid; neither shall the said Indians have liberty or leave to rent, sell, or in anyways dispose of the said lands."
North Carolina Colonial Records (Saunders) XXV: 211. November, 1729