1800
Meherrin Indian Town shown on Potecasi Creek, and the Tuscarora Reservation (Indian Woods) which was also home to some Meherrin Indians.
1800 map titled: The State of North Carolina from the best Authorities.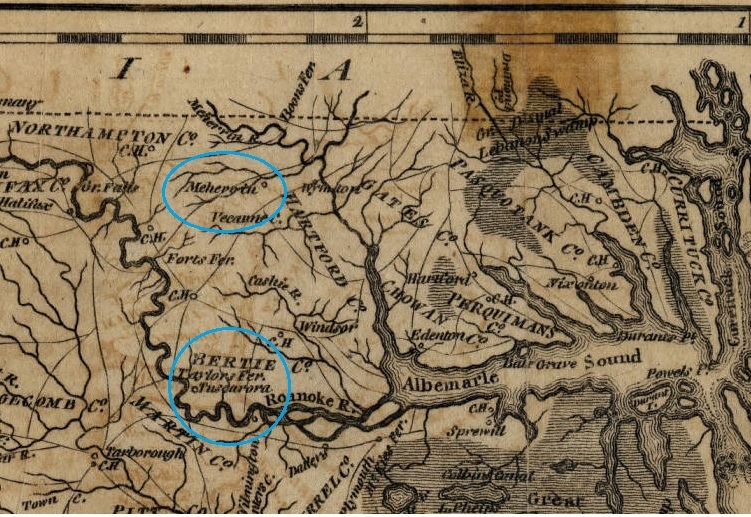 1802
In 1802 a group of Meherrins and Nottoway  moved up to join Haudenosaunee Communities in New York, as documented by Ray Fadden in his Educational Poster titled "Five Nations and Others"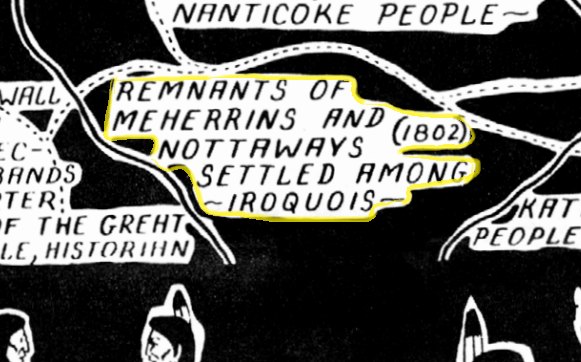 1802
The Meherrin were taken under the protection of the Haudenosaunee (Six Nations/ Iroquois Confederacy). (see below)
1. This was noted by President Thomas Jefferson and other US officials. Also, a number of Meherrins migrated to New York with the Tuscarora: "…the Five Nations received the Tuscaroras into their confederacy, and made them the Sixth Nation. They received the Meherrins and Tuteloes also into their protection…." (Jefferson, Thomas. Notes on the State of Virginia: 1781).
2. John Collier, head of the Bureau of Indian Affairs, met with the Mohawk Council of Chiefs. At this time he was informed that the Meherrin were taken under the protection of the Six Nations Confederacy, Haudenosaunee.
3. "Akawenchaka (Onondaga: A-ka-winch-ha-ka). -A small band that formerly lived in North Carolina, now numbering about 20 individuals, incorporated with the Tuscarora in New York. They are not regarded as true Tuscarora- Hewitt, Onondaga MS. B.A.E. 1888. (Hodge, Frederick Webb. Handbook of American Indians North of Mexico. University of Michigan. 1910. p 33)
4. Meherrin migrated to Canada and Joined the Six Nations on the Grand River Reserve.
(Johnson's Universal Cyclopedia: A.J. Johnson Company D. Appleton, A.J. Johnson, 1895)
1802
A number of Meherrin in Hertford County signed their names (demonstrating literacy) on a petition to the North Carolina government complaining that slaves were now able to testify against Free Persons of Color (Indians, Mulattos, and free Africans).
1802
The Virginia Racial Code was passed and later the Indian Removal Act virtually eliminated Indians from the official records. "Unlike the extensive records to be found in the Five Civilized Tribes, there was a deliberate effort of the United States to eliminate other tribes by officially eliminating them from the federal census."
(DeMarce, Virginia Easley The National Genealogical Society Quarterly. March 1992).
1802
Meherrin Indian Town shown on Potecasi Creek, and the Tuscarora Reservation (Indian Woods) which was also home to some Meherrin Indians.
1802 map titled: The State of North Carolina from the best authorities, &c. By Samuel Lewis.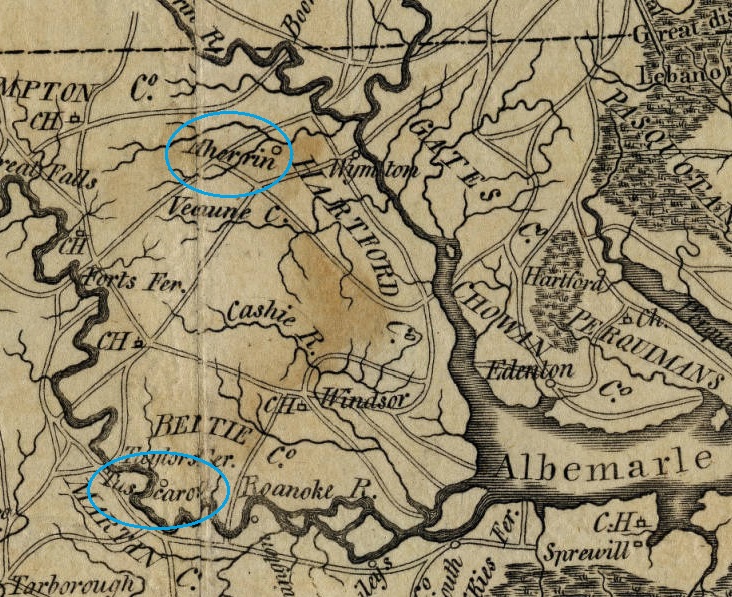 1804
The Public Acts of the General Assembly of North Carolina 1715 to 1790 Revised and Published. Printed in 1804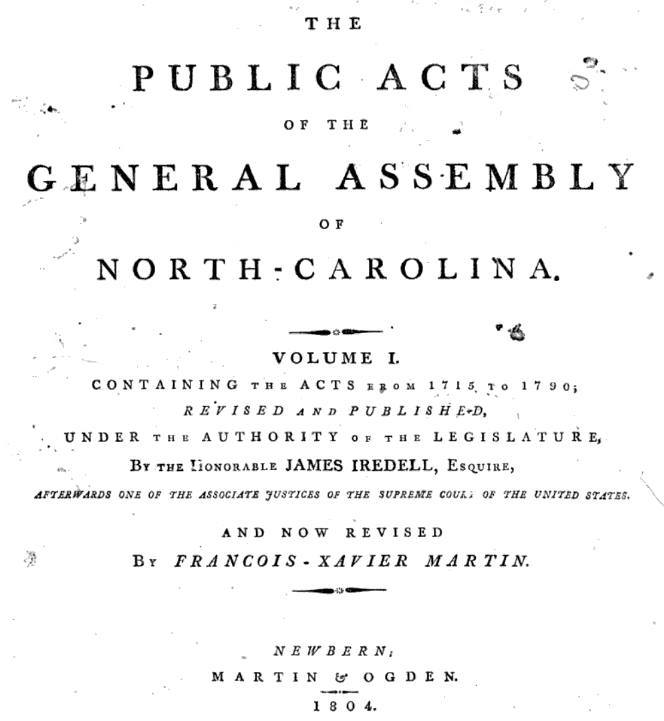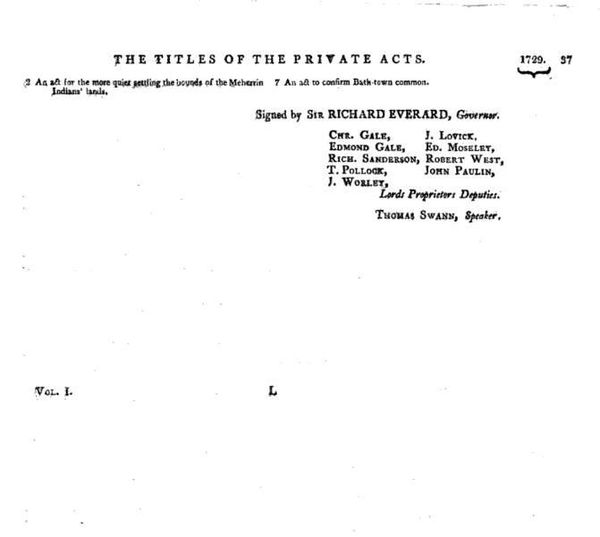 1806
A New Map of Part of the United States of North America Containing The Carolinas And Georgia. Also The Floridas And Part Of The Bahama Islands &c. . . . 1806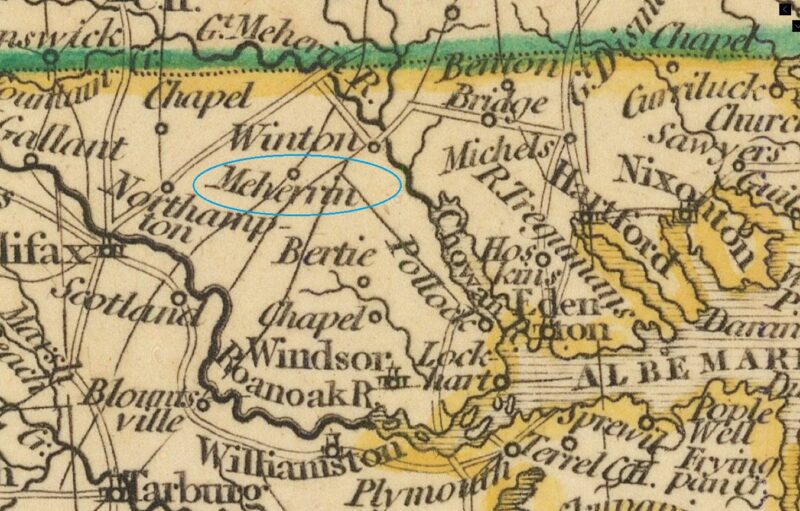 1808
The Meherrin were living with the Tuscarora at Indian Woods Reservation at the time this map was printed.
1808 Map. Titled: To David Stone and Peter Brown Esqrs. This First Actual Survey of the State of North Carolina Taken by the Subscribers is respectfully dedicated By their humble Servants Jona. Price. John Strother.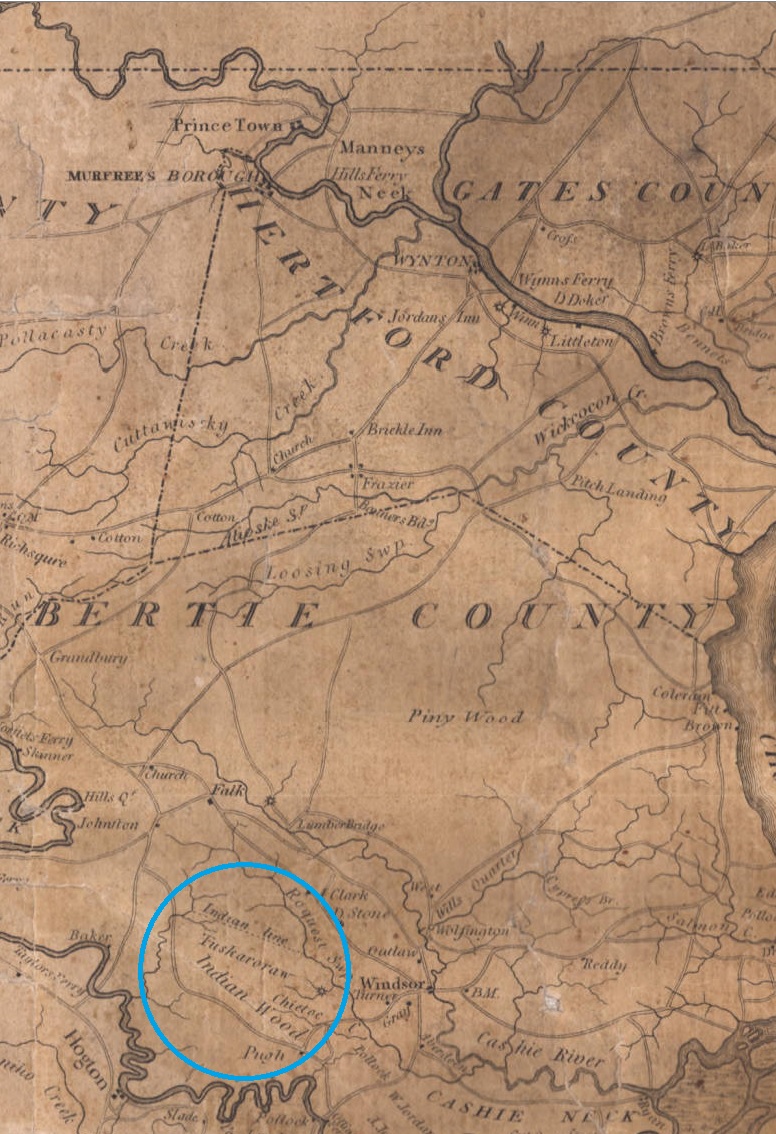 1811
Meherrin village shown next to the Potecasi River.
Map by Mathew Carey dated 1811.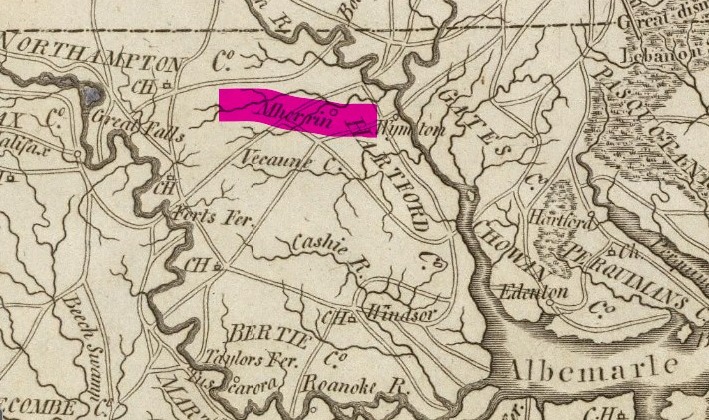 1820
Meherrin Town shown next to Meherrin Creek/Potecasi Creek. 
Map by P.F. Tardieu date 1820.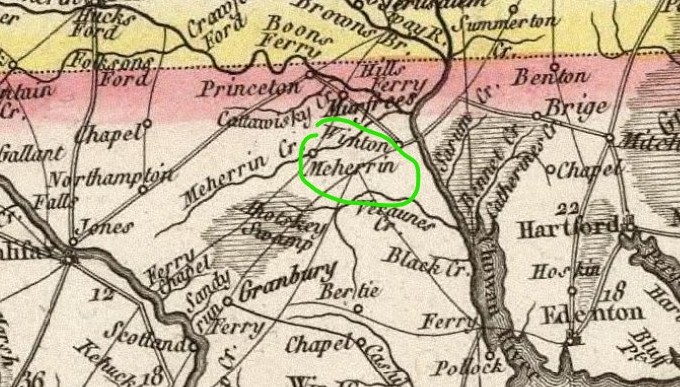 1832
The Hertford County Courthouse was burned in 1832 by a man who wished to destroy a paper held against him.
The loss of historical records still affect the Meherrin Indian Tribe today.
1830-1840
An oral tradition was transmitted to F. Roy Johnson in 1960 by a local white man whose great aunt, born about 1820 remembered two groups of Indians living on Potecasi Creek when she was a young child.
Both these groups were headed by the same "chief"; one group lived in what was known as the "old Indian Hole", the other about a mile down the creek in what was called the "old Roach Hole." The time frame for this occupation would have been in the 1830's to early 1840's, based on Ms. Jenkin's recollection… The land containing the old Indian Hole on Curie Neck is also known as the John Reid tract. John Reid was one of the early Meherrin community leaders, being one of the persons who, in 1851, came together to organize Pleasant Plains Church for the Indians of that area
(Meherrin Tribal Council n.d.)
1844
Sarah (Sallie) Matilda Smith-Weaver-Lewis was born in the month of August 1844. She is an historic matriarch to many Meherrin Tribal members. Her Parents were Jacob Smith, and her mother was Anna. She passed away on April 17, 1904, and is buried alongside her Husband Elvey D. Lewis in Union, Hertford County, North Carolina.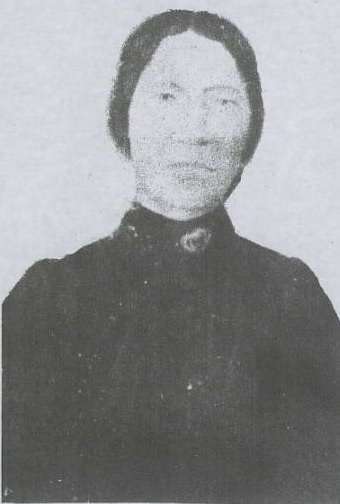 1850
J.J. Jordan transfers ownership of land to be used as the site for a new Baptist Church for Indian people within the community in or about the year 1850.
National Register of Historic Places Registration Form.
1850
1850 contract signed by members of the Free Colored Baptist Church Pleasant Plains held by Pleasant Plains Baptist Church.
National Register of Historic Places Registration Form.
1851
Pleasant Plains Indian Church is registered with the American Baptist Register-Chowan Association 1851 – Thomas Hogwood
American Baptist Register (page 288).
1851
Date for the establishment of a Baptist church in the Pleasant Plains community by mixed race families has traditionally been recognized by the local residents.
National Register of Historic Places Registration Form.
1851
Pleasant Plains Indian Church was founded by members of the Bizzell, Boon, Brown, Collins, Flood, Hall, Hunter, Lewis, Manley, Reid, Reynolds, and Weaver, (etc.) families. Many of their descendants attend the church today and are enrolled Meherrins.
1851
First meeting held on December 5, 1851. Minutes of this meeting refer to the church as the "Free Colored Baptist Church," and thirty-four individuals were named as members of the church.
National Register of Historic Places Registration Form.
1851
The first two deacons recorded in the December 5, 1851 minutes were Jesse Keene and William Hall, who were sent before the Presbytery and ordained in the spiritual order. Thus, the church and deacon board were organised at the same time.
Pleasant Plains Church 1851-2001 Booklet
1855
William D. Valentine noted his attendance at a meeting at Pleasant Plains on October 4, 1854. He also was present at a baptism of twenty new members of the church on October 15, 1855 and remarked later that "many colored people" along with "some few white persons" were part of the assembly on the Chowan River.29
THE COMPLICATIONS OF LIBERTY: FREE PEOPLE OF COLOR IN NORTH CAROLINA FROM THE COLONIAL PERIOD THROUGH RECONSTRUCTION by Warren Eugene Milteer, Jr. (Page 160).
1862
On Feb 20, 1862 between eleven o'clock in the morning and 2:00 p.m. the village of Winton, the seat of Hertford County, was burned by Federal troops.  It was the first North Carolina town burned by Union forces during the Civil War and the only one burned completely.
The burning of the Courthouse resulted in a devastating loss of historic records still felt by Meherrin people today.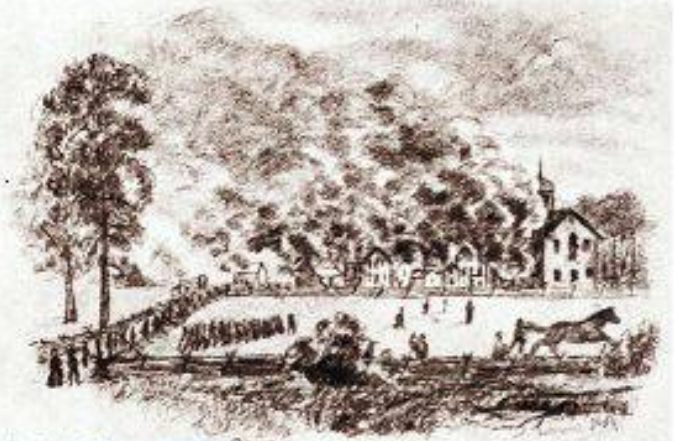 1866
The original Pleasant Plains Indian School was built in 1866 by ten men, some of the available names are listed: Lawrence Weaver, Dukie (Marmaduke) Hall, Willis Weaver, William Jones, Jesse Keene and James Reynolds.
D. W. Newsome was the first teacher in 1866
National Register of Historic Places Registration Form.
1875-1881
Sometime between 1875 and 1881, when Hersey Parker was pastor, the Pleasant Plains Indian Church was "remodeled."
National Register of Historic Places Registration Form.
1885
North Carolina passed a constitutional amendment prohibiting Indians (and Blacks) from "voting, serving on juries, testifying against whites, bearing arms, and learning to read and write". For these reasons, among others the Indians tried everything possible to hide their true identity, and pass as another race, including black, white, or mulatto.
(Theda Perdue. Native Carolinian's: The Indians of North Carolina. Division of Archives and History- Raleigh. 1985)
For most of the 19th century, as colonials continued to trespass on Meherrin land, the Meherrins moved to less desirable areas of Gates and Hertford County. Others spread to Bertie and Northampton Counties. In order to protect the remaining territory, the Meherrins parceled out tribal property into individually-owned land. Meherrin continued to operate our own "Native American" churches, some very similar to Longhouses. We also had our own Indian schools through the period of segregation.